Although reborn dolls are usually realistic baby dolls, apart from some monkey baby dolls, artists have made use of the concept of fantasy to craft fantasy reborns resembling neonatal dragons, aliens, fairies, werewolves, and vampires as well. If you are looking for fantasy reborn dolls, then keep reading! This article will present some unique, fantastic fantasy reborns created by artists and sculptors from all over the world. Based on price, appearance and online reviews, we have selected a list of the top fantasy reborn dolls we found online.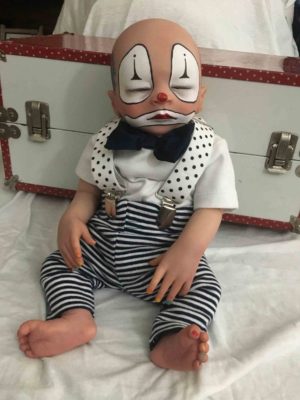 Artist: Breeanna Schilling
Size: 16″ tall
Material: Vinyl
This cute clown Reborn doll is made from the Faith kit. He is about 16″ long and 3lb 5oz. He wears preemie size clothes.
This little guy is painted and sealed with GHSP. He has a sad little frown, a shiny red circle nose, rainbow finger and toe nails, and painted rainbow curly hair.
He will come home with the trunk that you see in the picture and will also come with 1 colorful bonnet, his little clown friends, 1 outfit with the small suspenders. He will be sent home with a nice box opening.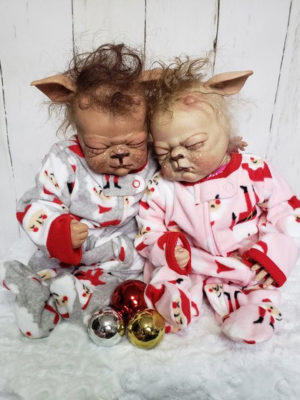 Brand: U-Geek Boutique Reborn Dolls
Artist: Sabrina Smith
Size: 16.5″ tall
Material: Glass beads and polyfill
These cute fawn twins are so adorable and so lifelike that they are bound to be the center of attention wherever they go. They are realistic down to the very smallest detail, from hand rooted hair and eyelashes to the wrinkles in their little hands and feet.
They are painted with Genesis heat set paint and are weighed with glass beads and top quality polyfill. They take a magnetic pacifier.
The twins will come with a small box opening to make the perfect Christmas gift.